Virtual Monitoring Web Portal for your End Users
You or your Customers can log into the web based Virtual Monitoring Platform from a computer or Smart Phone at any time and have full control over monitoring preferences. Virtual Monitoring is the most modern Self Monitoring solution available in Australia today.

Log in to view a demo of the Virtual Monitoring platform...
Optional recording of IP Cameras
The instant an alarm system is activated, the Virtual Monitoring server sends out email and SMS alerts to any number of End User defined contacts and starts recording from any number of IP cameras based on settings that have been entered into an online account. No physical wiring is required between IP cameras and the alarm panel. Everything is handled by cutting edge software technology on the server.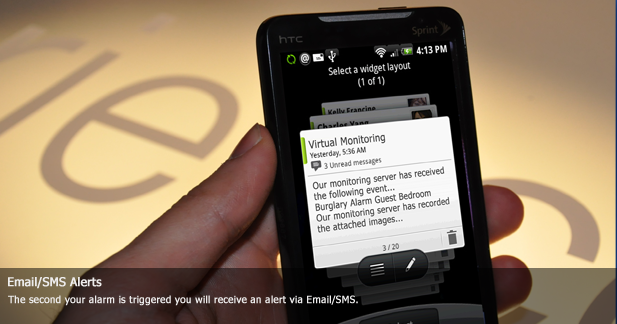 Images to Operators and End User Smart Phones
Recorded images are made available to a monitoring company operator for a programmable number of minutes following an event and with your permission, they can also be emailed out to End User mobile phones.
The ability to visually verify an alarm event can prevent costly false alarms and the unnecessary dispatch of police or private patrols.
Virtual Monitoring is highly suited to todays high-tech world driven by the Internet and mobile devices. It is an ideal solution where a fast police response is not possible, or where you simply prefer to have people you know respond to alarm events.
Pay for under 10 accounts with a PayPal Subscription
PayPal subscriptions are an easy way to manage monthly payments when you have a small number of accounts. Your accounts will be created shortly after we receive confirmation from PayPal that you have started a subscription and it will end as soon as we receive notification that you have cancelled your subscription. The subscription is between you and PayPal and you can cancel it at any time without even notifying us. Please understand that there is a cost involved in setting up each account in our platform and that the activation fee is non-refundable. You can use the Email2SMS gateway of your choice or you can purchase 100 SMS credits via PayPal for $35
| | |
| --- | --- |
| One time activation fee | $15 |
| Self Monitoring Monthly Subscription | $5.95 |